By Tyler Durden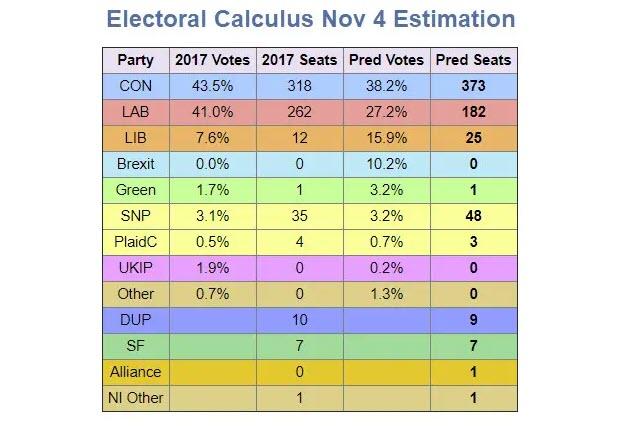 UK Election Math: What Are The Odds Of A Hung Parliament?
Authored by Mike Shedlock via MishTalk,
With the UK general election less than five weeks away, let's analyze election chances.
The above chart is from Electoral Calculus. Prediction based on opinion polls from 25 Oct 2019 to 04 Nov 2019, sampling 15,917 people.
Tory Starting Point
Majority Math
650 Seats
Expect Sin Fein to pickup one seat. If Sin Fein does not sit, and it's likely they don't sit, Parliament will have 642 MPs.
The Speaker and 3 deputies do not vote and are considered non-partisan.
650-8-4 – 638.
A majority is over half. Thus 638/2 + 1 = 320
If the speaker and deputies do count, then the majority is 322.
DUP was part of Theresa May's fragile majority but will not be part of Johnson's.
Tory Starting Point 270
Assume the Scottish National Party wipes out 13 Tory seats,
Assume the Liberal Democrats alliance works and that tips 6 more seats.
One seat from Plaid Cymru seems headed to the Tories.
The net result of those subtractions is 270. Thus the Tories need to pick up 52 seats just to have a bare majority. How likely …read more
Source:: Zero Hedge