By Tyler Durden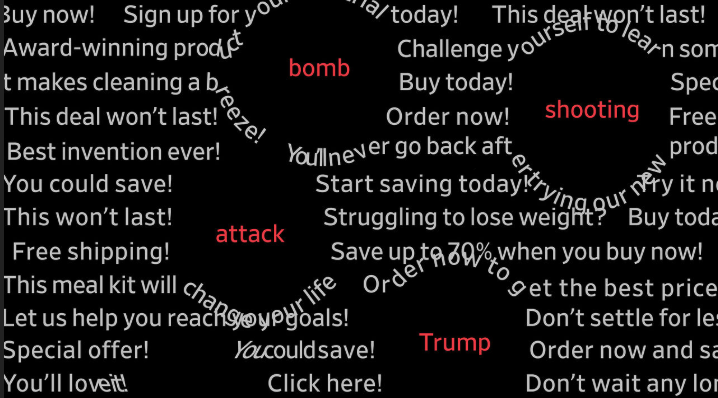 An increasing number of companies are now demanding that their online advertisements do not appear next to articles containing 'blacklisted' keywords, according to the Wall Street Journal's Suzanne Vranica.
For example, articles which contain the words "dead, shooting, murder, gun, rape, bomb and Trump" have been flagged as no-go, according to brand-safety firm Integral Ad Science.
Like many advertisers, Fidelity Investments wants to avoid advertising online near controversial content. The Boston-based financial-services company has a lengthy blacklist of words it considers off-limits.
If one of those words is in an article's headline, Fidelity won't place an ad there. Its list earlier this year, reviewed by The Wall Street Journal, contained more than 400 words, including "bomb," "immigration" and "racism." Also off-limits: "Trump." -Wall Street Journal
In recent years, corporations have been burned after their online advertisements appeared next to offensive content – including fake news, porn, and hateful or racist materials. This can happen due to the way ad serving agencies categorize audiences vs. content. As a result, advertisers are now stipulating that they don't want their content featured on certain websites or articles with certain keywords.
"Political stories are, regardless of party affiliation, not relevant to …read more
Source:: Zero Hedge