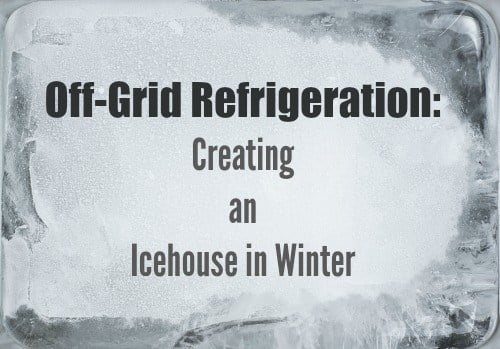 This article was originally published by Jeremiah Johnson at Tess Pennington's Ready Nutrition on February 21, 2017.
For those without enough property or in an urban or suburban area, an icebox might be a good thing to have, at least as a backup for the refrigerator.
Those who plan to create ways for off-grid refrigeration usually plan to build when the snow thaws, but I'm doing something a little different – I'm planning on building one now. The main problem for me right now is that I have four feet of snow on the ground, and it's a little hard to do a layout or any kind of excavating for it. But what of it? That doesn't mean I can't plan now, nor undertake it before the winter months disappear.
Off-Grid Refrigeration
Icehouses were used extensively in the U.S., especially in "pioneer days," where they would be the main way of keeping meats and vegetables cool and "refrigerated" in a manner to not require canning, smoking, or drying them. These icehouses were combined with root cellars/canning cellars to be structures heavily-insulated with earth to keep everything cool and from spoiling in the spring and summer months. …read more
Source:: SHTFPlan.com